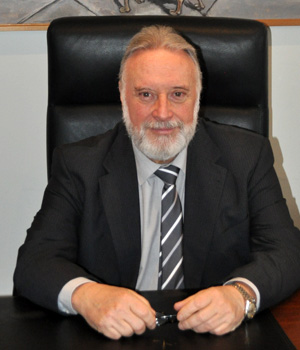 ---
ENRIQUE CÉSAR LÓPEZ VEIGA,
President of the Port Authority of Vigo
---
"…Islands emerge and on its shores ports grow. More and more mussel rafts flourish over the edge of water. This is the cradle of sailors' vocations that become visible over gamela boats. Space for resting, for the large cruise ship…" that is how Galician writer Álvaro Cunqueiro described our Ria.
The Ria of Vigo, pride of all Vigo citizens because of its exceptional landscapes, compelling cuisine and a natural park like Cíes Islands, which is one of the main attractions of the Galician coast. Of all the Galician Rias, "ours" takes the lead.
Its excellent natural conditions, easy access, deep draughts and calm waters, make the Ria of Vigo an ideal shelter for navigation. If we add its magnificent climate, not in vain it is said that Vigo has its own microclimate, an exception in Galicia and even in Spain, with an average annual temperature of 14.9 degrees Celsius, there should be no doubt that its bay is a superb frame to host all types of vessels. "The bay is oblong and penetrates deep inland; it is so vast that a thousand liners may maneuver in it without hindrance", English traveler George Borrow claimed in the mid-nineteenth century in his travel memoirs books.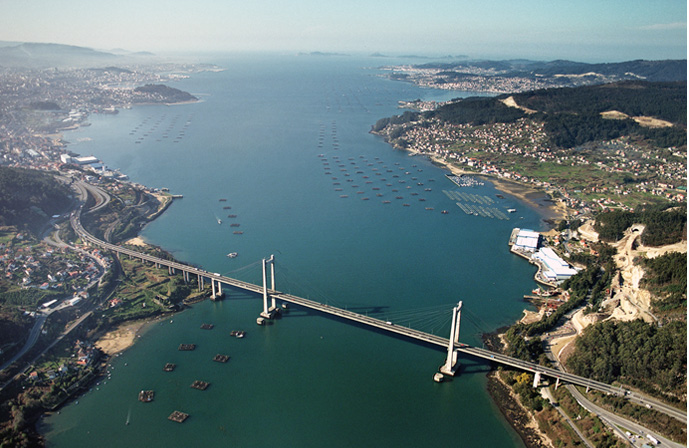 And if that were not enough, as far as maritime safety is concerned, Galician coast and specially the Ria of Vigo's, have the best European maritime rescue means available since the creation of Maritime Search and Rescue Service, currently Galician Coast Guard Service, created by the Department of Fisheries of regional government Xunta de Galicia, in 1990, with the collaboration Spanish State Administration to address optimally any eventuality or emergency that might occur in both fishing operations as well as in cruise traffic.
Another key element in this maritime rescue policy is SASEMAR, "Sociedad de Salvamento y Seguridad Marítima" (1993), a state-owned enterprise under the heading of the Ministry of Public Works that is in charge of maritime search and rescue services, as well as the prevention and fight against marine pollution and the maritime traffic control, not forgetting the European Maritime Safety Agency, (EMSA, 2002) based in Lisbon, and Remolcadores Nosa Terra, S.A. tugs (1974).
All these means of rescue at sea, working in perfect harmony and synchronization, make Vigo the safest port of the Iberian peninsula, counting on effective technological innovation tools in maritime safety and environmental sustainability.
Similarly, the port of Vigo enjoys an unbeatable position within the main sea trade routes between America and Europe and it is eligible to continue attending its current traffics and increase its area of influence, both maritime and inland.
Moreover, the imminent opening of the Panama Canal expansion project, with the ship "Cosco Shipping Panama", will allow the passage of the largest cargo ships, real giant container ships of 15m draft, 366m length and about 12,500 TEUs, which might help Vigo to become not only an "Atlantic Gate" but also a "Pacific Gate".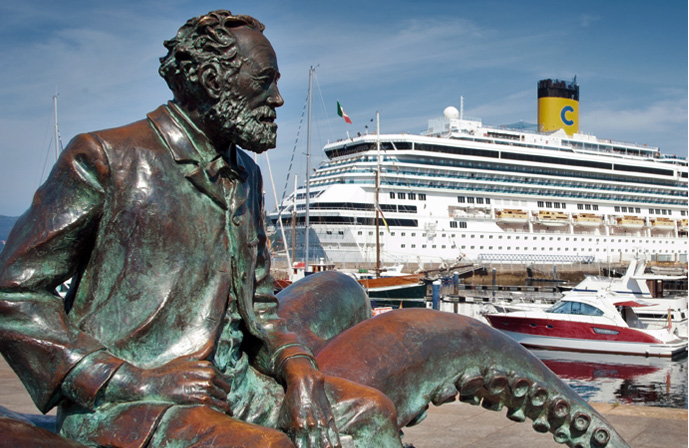 Not even the very Jules Verne came to imagine sea monsters of this kind when he wrote "Twenty Thousand Leagues under the Sea", in which Captain Nemo explored the funds of the Ria trying to recover the ingots carried by the galleons sunk in the Battle of Vigo Bay in 1702.
In any case, throughout this Ria islands and mussel rafts emerge, but also do tides and storms; man cannot tame nature, but he can minimize its damages. The Port of Vigo is a very good example of it.