16/09/2023
PUERTO, XUNTA Y DIPUTACIÓN ULTIMAN LOS DETALLES PARA LA QUÍNTUPLE ESCALA DE CRUCEROS
El Puerto de Vigo recibirá el próximo martes, día 19, la llegada simultánea de cinco transatlánticos con, aproximadamente, 15.000 personas a bordo, entre pasaje y tripulación • Las tres administraciones trabajan conjuntamente desde hace días en la organización de diversas actividades en todo el frente marítimo de la ciudad, para darles la bienvenida en una jornada histórica • El paseo de Las Avenidas ofrecerá actuaciones musicales, la posibilidad de degustar productos procedentes de las rías, un photocall y diferentes carpas para promocionar Galicia y las Rías Baixas como destino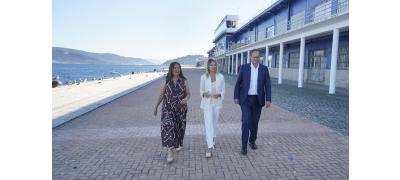 Puerto de Vigo, Xunta de Galicia y Diputación de Pontevedra ultiman los detalles para la que será una jornada histórica en la ciudad con la llegada de hasta cinco transatlánticos, el próximo martes, día 19, con un total de 15.000 personas a bordo, entre pasaje y tripulación.
Para ello, las tres administraciones trabajan conjuntamente desde hace días en la organización de diversas actividades en todo el frente marítimo de la ciudad, con el objetivo de dar la bienvenida a los turistas llegados a bordo del "Anthem of the Seas", "Disney Dream", "Silver Moon", "Scenic Eclipse" y "Ambition" y promocionar la imagen turística de Vigo.
La llegada simultánea de cinco cruceros supondrá la activación de las dos terminales de cruceros, las situadas en el Muelle de Trasatlánticos y El Tinglado, ya que los buques se repartirán en ambos espacios. La zona de máxima confluencia para los cruceristas que llegarán a Vigo por mar será el paseo de Las Avenidas y justo allí se concentrarán las propuestas de las tres administraciones implicadas.
Así, el recién reformado paseo ofrecerá a los 15.000 desembarcados animación tradicional gallega, la posibilidad de degustar productos procedentes de las rías gallegas gracias a dos food trucks de la campaña "Galicia sabe AMAR" de la Consellería do Mar y diferentes carpas de Turismo de Galicia, Galicia Calidade y la Diputación de Pontevedra para promocionar nuestra comunidad y las Rías Baixas entre los cruceristas y tripulantes. De igual forma, se instalará un photocall y los turistas que así lo deseen podrán participar en sorteos a pie de calle.
Horarios, ubicación e itinerarios
Respecto a los horarios de llegada de los buques, los más madrugadores serán el Silver Moon y el Scenic Eclipse, con escalas que se desarrollarán de 8 a 23h. en ambos casos. A continuación, recalarán el Ambition -de 9 a 18h., el Anthem of the Seas -de 9 a 16h.- y el Disney Dream -de 9.45 a 18.30h.-.
El Muelle de Trasatlánticos acogerá la escala del Anthem of the Seas y el Disney Dream. Por su parte, el Ambition, atracará en el Muelle de Comercio, el Scenic Eclipse, recalará en el Muelle Transversal y el Silver Moon lo hará en el Muelle del Arenal.
Para garantizar, en todo momento, el mejor servicio posible a los buques y demostrar la capacidad de respuesta del Puerto, la institución que preside Carlos Botana pondrá a su disposición un servicio de lanzaderas, reforzará los equipos de prácticos, amarradores y Policía Portuaria, creará zonas acotadas para el traslado de los pasajeros que desembarcarán en los muelles comerciales y extremará la coordinación entre todos los actores implicados en el tráfico de cruceros.