10/10/2019
EL PRESIDENTE DE LA AUTORIDAD PORTUARIA DE VIGO, D. ENRIQUE LÓPEZ VEIGA, EXPONE EN LA SEMANA EUROPEA DE LAS REGIONES, EN BRUSELAS, LA ESTRATEGIA BLUE GROWTH DEL PUERTO DE VIGO COMO EJEMPLO DEMOSTRATIVO PARA TODO EL SECTOR MARÍTIMO PORTUARIO DE LA UE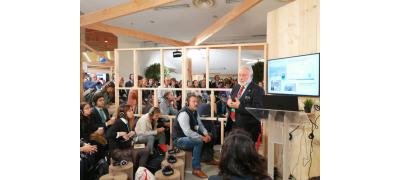 El presidente de la Autoridad Portuaria de Vigo, D. Enrique López Veiga presenta la estrategia Blue Growth del Puerto de Vigo en la "Semana Europea de las Regiones y Ciudades".
Este acto es una plataforma internacional en la cual representantes de las administraciones regionales y locales y expertos del mundo académico se reúnen a lo largo de cuatro días con la finalidad de poner en común buenas prácticas y conocimientos especializados en materia de desarrollo regional y urbano. Este evento está organizado de forma conjunta por el Comité Europeo de las Regiones (CDR) y la Dirección General de Política Regional y Urbana de la Comisión Europea (DG REGIO).
En este evento,  D. Enrique López Veiga ofreció una ponencia en la sesión "How to boost Blue Growth from the ground: the example of the Port of Vigo". El modelo Blue Growth del Puerto de Vigo se ensalza como ejmplo demostrtaivo de la aplicación práctica de la estrategia de Crecimiento Azul lanzada por la comisión Europea. Durante la misma, el Presidente expuso la Estrategia Blue Growth del Puerto de Vigo a través de un recorrido desde la concepción del proyecto hasta la situación actual y futuros pasos.
La idea central de charla destacó la importancia de sustentar este tipo de estrategias a través de procesos de desarrollo bottom up, diseñados desde el contexto local. De forma que una vez asentada la cooperación local, esta debe buscar la cooperación a nivel nacional e internacional.
Así mismo, esta sesión permitió dar a conocer la herramienta especialmente diseñada para la medición y seguimiento del impacto de la Estrategia en términos de desarrollo social, económico y ambiental en el área de influencia del Puerto.
La charla culminó destacando la compatibilidad de la actividad industrial y económica portuaria con el medio ambiente, ejemplificado a través de algunos de los proyectos como "Peiraos do Solpor", donde el Puerto de la mano de la Universidad de Vigo ha creado ecosistemas marinos dentro de la zona portuaria, con fondos recuperados y aparición de praderas de zostera que captan CO2; "Tutatis" Cies 100% de energías renovables o el "Compromiso de Our Ocean".
Se destacó igualmente la incidencia de la estrategia para promover la innovación en y la introducción de nuevas tecnologías en sectores estratégicos como la pesca, como como por ejemplo a través del proyecto Lonja 4.0 - TTQS (Transparencia, Trazabilidad, Calidad y sostenibilidad).